Xbox 360 Games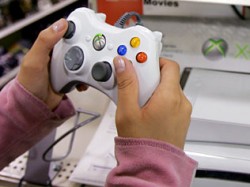 Xbox 360 Games... Jump in
Microsoft's first gaming console, the Xbox, was a huge hit in 2002 and the games that followed was more than just an alternative to the playstation 2. It had amazing graphics and smooth gameplay but was overshadowed by the PS2's huge world wide sales figures. With the release of its successor, the Xbox 360, the graphics have been further accelerated due to a new Tri-Core processor and improved graphics. Microsoft was unware that their secrect weapon would join Sony and Nintendo in the inevitable "console wars".

The new Xbox 360 console is faster sure, but raw power doesn't mean much if you don't have games to test it on. The Xbox 360 was launched with a great series of gaming titles in every major country, with games like gears of war and Halo selling millions of copies within the first week of release.
Xbox 360 games Unleashes your Imagination
Playing an Xbox 360 game is like being awake in an amazing dream, you can do whatever you like, go anywhere and be anyone. After a hard day's work, who doesn't want to become a driver racing the most beautiful cars in the world or a noble knight battling enemies and monsters in a far away world? All the adventure you are looking for right at your finger tips.
The introduction of Kinect for Xbox 360 (previously called Project Natal) revolutionized the video gaming industry with a single effective tag line... "You are the controller".
Kinect for Xbox 360 is a motion tracking sensor or peripheral and acts like a web-cam for the Xbox 360 console. The Kinect device is able to interact with a user with the need to use a controller. So this means that you play Xbox 360 games using natural body movements and gestures. Of course these games have to be Kinect-supported in order to use the Kinect sensor effectively; a few games like Kinectimals and Kinect Sports have gained popularity among all audience types.
Do more with Xbox 360 gaming
The Xbox 360 is all about the next generation in media entertainment, with video gaming being priority number one. Microsoft spend huge amounts of resources and capital to get exclusive rights on a few of the more popular video game series like Gears of War and Forza Motorsport to name a few.
The most engaging feature of playing an Xbox 360 game is that illusive soft sound followed by a little Xbox 360 icon popping up on screen. That is right, Xbox 360 achievements; the system that rewards you for completing a certain level or objective in a particular game. This both motivates you to continue playing the game and also makes the experience more enjoyable during longer periods of play.
Connecting with friends and family outside your living room is made easier with Xbox Live. This online gaming service allows you to chat with your friends while playing your favourite game, download additional game demos and trailers or even posting your Xbox 360 achievements online.
Shopping for an Xbox 360 game Online
Xbox 360 games feels like having a wonderland of creativity, innovation and of course fun, tightly crammed into one incredible machine. The graphics processor turns any game into visual splendours. Xbox 360 accessories and peripherals adds functionality to the console, increasing its value for years to come.
The Xbox 360 has a software ratio of 7 games per console, so you can be sure that there will be a huge amount of gaming titles available on OneShop via our trusted online retailers. Get the best prices, game reviews and latest Xbox 360 game rankings to give you the best options when choice your next gaming title.
Other Xbox 360 Games Resources
Learn more about the Xbox 360 hardware and gaming on
Wikipedia
Get the full details about Kinect for Xbox 360, on the offical Xbox 360 website