Clothing & Accessories
Step out in style with a wide selection of clothing and accessories for women, men or children. ONESHOP.co.za makes it easy for you to compare prices before you buy clothing online, allowing you to find the best prices from leading brands and stores. Browse our online clothing shopping collections at ONESHOP.co.za to find sunglasses, footwear, dresses, menswear and everything else you need to look your best.
Top Clothing & Accessory Categories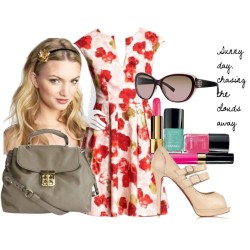 How fashion got started
Before the mid 19th century most clothing was custom made by hand for individuals, making the garment unique and one of a kind. With the arrival of the sewing machine, the development of the factory system and department stores in the beginning of the 20th century clothing has come to be mass produced, made in standard sizes and sold at fixed prices. Now it is an international and globalized industry with fashion items being designed in one country, manufactured in another and sold worldwide. What would fashion be without fashion journalism? Magazines, newspapers, fashion websites and television programs keeps people up to date with the new fashion trends and influences the public's clothing taste. They set the fashion trends in motion.
Different styles
There are so many different styles these days that it is easy to find a style that goes with your personality and lifestyle. You might even have more than one style. Styles and fashion constantly revolve and gets recycled but the following fashion styles will always remain as long as different personalities and cultures exist. Here are a view:
Classic
The classic look expresses a clean, prim and proper look. Men are well groomed with jeans and a sports jacket being a regular ensemble. For women earrings are not over the top and flashy, normally a beautiful pair of diamond or pearl studs. Two celebrities that flaunt the classic look are Reese Witherspoon and Jennifer Aniston.
Bohemian/Hippie
This fashion style incorporates many flavours and can also be referred to as the beachy, quirky, eclectic look. This style is all about freedom with loose fitting tunics, flowing floral dresses, tousled hair, headbands, fedora hats and other fun accessories. This style brings celebrities such as Johnny Depp, Kate Hudson and Ashly Olsen to mind.
Rock/Funk
The Funky rock look is edgy with bold accents and statements which can be expressed with hairstyles and hair colours, bright lipstick or accessories. Some trademark clothing pieces include the leather jacket, shirts with funky designs, ripped jeans and miniskirts. Celebrities that rock this style are Gwen Stafani, Pink and Rihanna.
Goth Glam
The Goth Glam style is a more stylish and classy version of the gothic look but it is still a look of dark colours such as black, navy and burgundy. Celebrities that are often seen in this fashion style is Kristen Stewart, Cher and Madonna.
Girly
Girly glam outfits are body hugging with the favourite colour being pink with loud and sparkling accessories. It is high stilettos with the emphases on anything and everything girly and feminine. Celebrities that comes to mind is Jessica Simpson and Paris Hilton.
How to establish your own style
There are so many fashion styles available changing every season, bringing in more colours, patterns and combinations which makes it fun and easy to find your own style that suits your mood, personality and body. Choosing the right colours can make your skin glow giving you a healthy complexion, complement your eye colour and your hair colour. So remember when you receive those complements when someone tells you "wow that colour really brings out your eyes." The most important part in choosing your own style is to accept your body as it is and to shop according to it. The cold truth is that some cloths and fashion trends just don't suit you and when you think something looks good on you it is not always true so best get an honest opinion. You don't need a fat wallet, a model body or the top labels and brands to look good.
Accessories are a girl's best friend, with a few accessories you can transform an outfit completely from casual to glam or the other way around. So with a few show stopping pieces of jewellery, funky hats, scarves or unique handbags you can change your ordinary outfit to an whole new extraordinary show stopping combination.
Must have closet items
These items are trend proof meaning you can wear them on all occasions without sacrificing style. They are interchangeably by simply adding an accessory or wearing different shoes you can change the whole look. These must have items set the foundation for your closet. They are the blank canvas items that simply need one or two items that can change the look from casual to stylish. These items are:
White button down shirt
Warm coat in a neutral colour
Good pair of jeans
pair of black pants
Little black dress
Leather jacket
Black or white camisole or tank top for men it will be a v-neck shirt
Shopping online
Make sure you understand the sizing chart so that you can purchase the right size, thus avoid returns. Important questions to ask yourself if you are a shopaholic are:
Do I really need this?
Don't I have something already like it?
What will it go with that I have in my closet?
Where/when will I wear it?
These questions will help you establish between need and simply want and that way you can either buy an item with a smile on your face knowing that it is going to add that extra splash of colour your closet needs or you can save some money for the next needed item. Here on OneShop you will find trendy ladies and gent's apparel so that you can keep up with the ever changing fashion style for each season. Choose from our great online stores tops, pants, dresses, skirts, footwear and accessories that suit your style. We have all the fashion items you can possible need from sports clothing and accessories to the stylish work outfits.