Wii Games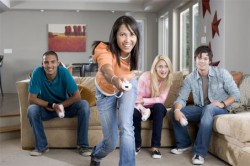 Nintendo Wii Games... The New Age of gaming
The Japanese based corporation Nintendo, has been manufacturing game consoles and video games since the early 70s. With innovative ideas and ground-breaking technological advancements, Nintendo has become the most influential brand in video gaming history.
Their success of Nintendo's latest home gaming console, the Nintendo Wii, has gain immense popularity and worldwide sales. The technology behind the Wii is the main reason why Wii games are "selling like hotcakes" since its launch in 2006.
Enter Wii motion gaming
So what makes Wii games so special? Well Nintendo engineers and developers have integrated the console to allow motion gaming instead of statically button-mashing on a single controller. This means you play Wii-based games by using a series of accelerometers and receivers built into the Wii's motion sensing controller.
The Wii remote (mimicking the comfort grip of a television remote) communicates with the Wii console's sensor bar via infrared signals. The Wii remote also has a wireless bluetooth configuration making it convenient with natural hard gestures and reduces the risk of tripping over messy wires. A most talked about advantage of the "Wiimote", as its commonly refured, is that it can connect up to four players to play a particular game in the same space, each holding their own Wii controller, allowing everybody to play togther.
Nintendo's intentions for the Wii was assumed to be targeted at a younger audience, hence the amount of child-friendly and family oriented games available. It was soon realised that Wii games was suitable for any and everybody of different ages and preferences. Most of the Wii games today are catered to the more casual user, however; sports, fitness and even hardcore games soon came into the fray widening the target audience.
Play Wii games with Anyone, Anytime
Although many other platforms and genres are available on the Wii, here are few examples of the few popular platforms and Wii games.
Shopping for a Wii game Online
There's no mistake that the Wii's popularity streak is far from over, with statists speaking for themselves in Wii console and games sales across the globe. Although not graphically superior to the PS3 and Xbox 360, The Wii dominated the gaming industry with simple innovation and marketing intelligence, cleverly catering to the right demographic, at the right time.
OneShop has the very best Wii games to keep you entertainment for hours at an end. Complete you Wii gaming experience with various Nintendo Wii accessories like steering wheels, Wii fit balance boards and so much more. Get the latest Wii game reviews and top rated games, all from trusted proudly South African online retailers.
Other Wii Game resources
Learn more about the Nintendo Wii and Wii games on Wikipedia
Get futher details on Wii hardware on the Wii offical website