PS3 Games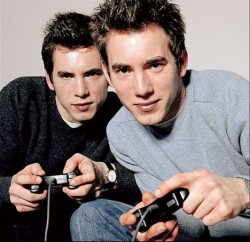 Playstaion 3 Games... the ultimate gaming experience.
The 21st century elevated the gaming industry by leaps and bounds, giving video game enthusiasts, young and old, the freedom to unleash their imagination in a fantasy world of their choosing. Sony Computer Entertainment launched the Playstation 3 console in 2004 and a huge arsenal of Playstation 3 games followed in the years to come.
PS3 (abbreviated term for Playstation 3) games have ushered in the next-generation of gaming by relaying on the Cell Broadband Engine of the PS3 console. With its series of super-fast microprocessors allowing for incredible gaming speeds and breathtaking visuals to be displayed every time you play a PS3 game.
Why play PS3 games?
The Playstation 3 is able to play games and Blu-ray playback at 1080p, which is a high-definition broadcast signal with a resolution of 1920 × 1080. This native resolution gives you a smooth, crisp pictures thus making games look shaper than ever before. Please note that a HDMI cable is necessary to achieve the maximum quality and is usually sold separately.
The most talked about subject in the console wars, competition between the PS3, Xbox 360 and Nintendo Wii, may be the availability of exclusive titles. Sony spends millions each year to secure the rights of a particularly popular games like God of War or Uncharted series in a effect to gain a foothold in the console gaming market.
The next level of PS3 gaming
Recently, Sony Computer Entertainment has seen the potential of three-dimensional gaming, as such, all Playstation Systems have been incorporated with full stereoscopic 3D support. That's right; you can now play PS3 games in glorious 3D without purchasing additional PS3 hardware. Visit the 3D home ciniema & 3D gaming buying guide for 3D related details and how to update your PS3 console to play PS3 games in stereoscopic 3D.
A great way to further enjoy your PS3 game experience is with the cleverly integrated Playstation Trophy system. This incredibly additive feature lets you earn various trophies like bronze, silver, gold and platinum each time you complete a level or specific in-game objective. You can show off your victories under your Trophy Collection, this shows what trophies you have and what you have to do to get the ones you must still unlock
The Playstation Network, or PSN, allows you to download the latest games, demos, videos and more. Simply connect your PS3 console's Wi-Fi or network ports to the internet and browse the Playstation Store to get extra game add-ons or hundreds of media content in a instant.
Shopping for PS3 games Online
The Playstation 2 was a major hit; selling millions of consoles and games. The PS3 is the true definition of a successor by improving its visuals and interface but most of all, delivers awe inspiring high-definition gaming at frames never seen before.
Get hundreds of amazing PS3 games from OneShop; compare the best price and choice the latest PS3 title. Expand your range and boost your gaming with various PS3 accessories to enhance your console experience. Make sure you read our PS3 game review and select the best rated game title to get the ultimate gaming experience from the comfort of your home, it's that simple.
Other Playstation 3 games Resources
Learn more about the Playstation 3 and PS3 gaming on Wikipedia
For full details about the benefits of 3D gaming and another PS3 features visit us.playstation.com/ps3