Office Furniture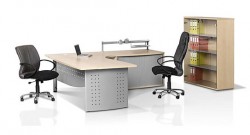 Office furniture plays an essential part in everyday business as well as the productivity of the business. Other than the obvious need and role of office furniture it also creates the atmosphere in the office which can either be comfortable, stylish, cold and impersonal or fun. No one wants to work in a dull and drab office on uncomfortable furniture that does not serve their need. That is way it is so important to choose the right office furniture. Office furniture does not only include desks and chairs, but also storage cupboards, boardroom and meeting tables, reception counters, soft seating and office accessories.
Furniture History
Furniture has been a part of the human culture since the Neolithic Period which dates back to 3100 - 2500 BC. Though the furniture was made out of stone and probably not very comfortable it is clear that we humans have the need for chairs and tables. With many varying styles and designs furniture can be considered a form of art and contributes greatly to the decor of an office or home.
Read more about the history of furniture on Wikipedia.
Importance of the right office furniture
Most of us work in an office from 08:00 to 17:00 a day, 5 days a week that totals to approximately 40 working hours. That is a lot of time to spend at one place and can be excruciating long if you have an uncomfortable office chair and unpractical office desk with too little storage space. For these reasons it is very important to have the right office furniture so that work is at least more comfortable.
Purchasing the right office furniture can be trickier than one think for certain points needs to be taken into consideration such as the office size, how many employees will be working at the business as well as the kind of business you have and if there needs to be furniture of clients and meetings.
Ergonomic chairs could be a great investment into your business for they provide the lower back with enough support, it improves your sitting posture which will prevent a number of back related problems. Not only do you get ergonomic chars but also workstations, desks, tables and other seating arrangements. With the right back support staff can work comfortable for longer and it will increase the businesses productivity.
Buying furniture online
On OneShop you will find an extensive range of office furniture and everything you could possibly need for your office to decorate and increase productivity. OneShop compares prices from the best online stores with reliable quality. You can be sure to find what you need in our office furniture category that suits your businesses needs and budget.