Digital Cameras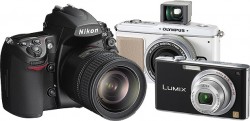 Gone are the days of stressing when taking out the film reel, putting it back into its little black holder, hoping that all the photos develop and they come out nice. With digital cameras you can view images on the camera's LCD screen, take a photo again if the images is blurred and pick-n-choose which you would like to develop. No more stressing that you only have a certain amount of shots available with the digital camera you can snap away as much as your memory card allows and you can purchase extra memory cards for even more snapping opportunities.
With digital cameras you can delete images to clear up space, record movies, crop images and even edit as you go. Digital cameras can also be found on Tablets and mobile phones.
Types of Digital Cameras
Digital cameras come in an array of different sizes, functionality and prices. They range from the easy and cheaper compact cameras to the complex digital SLR cameras with the intermediate cameras bridging the gap.
Compact Digital Cameras
Compact Cameras are, as the name suggests, small, compact and portable cameras. They are easy to use, perfect for simple snap shots and casual use. They are also called point-and-shoot cameras. Compact cameras are normally the more affordable camera option and come with many different features such as waterproof compact cameras and retractable lens compact cameras.
Bridge Cameras
Bridge cameras are better known as Advanced Digital Cameras. They are higher end digital cameras with a fixed lens and are similar in shape and size of a Digital SLR camera. It has more features than a compact camera but is bigger in size than the high zoom compact cameras. They are often confused for a Digital SLR but the key point to remember is that they have fixed lens and are cheaper than Digital SLR cameras.
Digital SLR Cameras
Digital SLR Cameras are the more advanced cameras with the best features, interchangeable lenses and high picture quality. They have mirror reflective view finders and larger sensors which enables them to take superior photos in low light. The Digital SLR is the largest camera, its heavier and is mostly used by professionals. They also have more manual adjustable functions allowing the photographer to have more control over each image taken and set the camera settings according to their needs.
Photo Display
The majority of digital cameras come with HDMI ports and cables which enables them to be connected to HDTV's so that you can display your movies and photos in the comfort of your living room. It is easy to select the best photos and have them printed at home or at a photo printing shop. With the digital form of photos you can display them on a digital photo frame in your home and be sure to never get bored of your framed photos.
Buying Online
With so many different digital cameras available with many different features and functionalities it can be an overwhelming task to choose one. With our digital camera buying guide we outline the important things to look out for and the best type of camera that will suit your needs so that you can buy a camera online with confidence and ease. We rate the latest cameras to give you an indication of what is the best in the camera industry and what camera promises more than its actual performance. You want to keep your camera looking new for as long as possible as well as protect it, with OneShop's great selection of cases and bags you can be sure to find the one that fits your camera and your style. In the camera accessories category you can also find battery chargers, the needed cables, extra batteries, lenses and so much more.