DVD Players
Page 1: Showing 1 to 1 of 1 DVD Players Products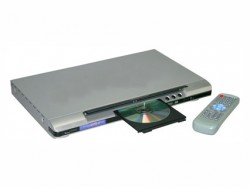 It was not that long ago that the VHS tape players were the must have home electronics which dominated the video market, but DVD players have replaced them completely. Upgrading from tapes to discs took the home entertainment to a whole new level and added new fun features. The first DVD player was available on the market in 1997 and since then the DVD players have evolved from a simple DVD player to full HD and Blu Ray players taking home entertainment to the next level. The Sony Playstation 2 was the first video game system to play DVDs, making it the ultimate entertainment system.
About DVD players:
The DVD player's task is finding and reading the data stored on the DVD as bumps with the small laser assembly. The DVD player needs to be an exceptionally precise system when you consider how small the bumps are on the DVD. The main function of the DVD player is to focus the small laser on the track of bumps in order for the movie and audio to play. The successors to the DVD player is the HD DVD Player, the Blu-ray Disc Player and the 3D Ready Player which makes use of incompatible technologies that produces higher quality images than the standard DVD player.
DVD disks:
A DVD is very similar to a CD but it can hold a larger amount of data, 7 times more data than a CD. This means that it can store a complete movie on it as well as a lot more other information. A typical DVD contains up to 133 minutes of high resolution video, soundtrack available in up to 32 languages and subtitles in up to 32 languages. The DVD format offers great advantages over the VHS tapes such as:
The DVD quality is better with many having Dolby digital or DTS sound which is very close to the sound you experience in a movie theatre.
It has an on screen index so you can select significant parts of the movie easily with no need to fast forward, simply select the scene.
DVD's are compatible with audio CD's
Majority of DVD's have the letterbox format for wide screen TV's and the standard TV size format.
DVD's also come with several soundtracks so you can choose your preferred language or subtitles in your language.
DVD's often have special features hidden on the disc.
Shopping online:
On OneShop you will find the leading DVD player brands with comparing prices, ratings, reviews and store recommendations so that you can make an informed shopping decision and get the best bang for your buck.
Read more about DVD players and how they work on Wikipedia.